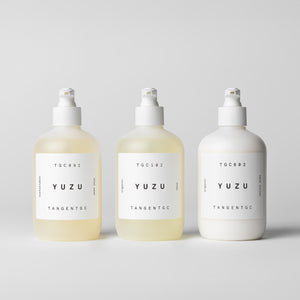 kitchen set - yuzu
Regular price $70.00 Sale
A kitchen set containing three yuzu products, TGC092 yuzu dish wash + TGC102 yuzu soap +  TGC602 yuzu hand lotion. Priced per set.
TGC092 dish wash
TGC092 dish wash – perfumed with yuzu – contains efficient dish washing agents, made from natural sugars. The sugar surfactants are gentle on your skin. Compared with similar products, thirty times less water is needed to fully neutralise impact on the aquatic environment. 
Natural and vegan. 
Cruelty and fossil free.
Made in Sweden.
Dosage
2 ml per 5 liters of water.
Volume
350 ml.
Ingredients
Anionic surfactants 15-30%, nonionic surfactants 5-15%, amphoteric surfactant <5%, preservative, potassium sorbate <5%, perfume <5%.
-
TGC102 yuzu soap
TGC102 yuzu is a perfumed, organic soap — crafted with pure vegetable oils. Yuzu is a citrus scent that well deserves its own stand-alone perfume. It is perhaps best described as a mineral-faceted citrus scent; a delicate blend of mandarin and grapefruit. It is not shrill like most citrus fruits but rather persuades quietly.

Organic and vegan.
Cruelty and fossil free.
Made in Sweden.
Volume
350 ml.
Ingredients
Aqua, Sodium Coco-Sulfate, Cocamidopropyl Betaine, Aloe Barbadensis Leaf Juice, Glycerin, Sodium Chloride, Parfum, Citric Acid, Sodium Benzoate, Limonene, Potassium Sorbate, Sodium Cocoyl Glutamate, Hexyl Cinnamal, Linalool, Alpha-Isomethyl Ionone.
-
TGC602 yuzu hand lotion
The formulation leaves your skin replenished and soft to the touch. It is designed with a natural and long-lasting formulation that works both in depth and on the surface. The formulation is centered around Natural Moisturizing Factors known as NMFs. Substances that occur naturally in your skin and have proven efficacy. For example, AHA, glycerin and vitamin E.

Organic and vegan.
Cruelty and fossil free.
Made in Sweden.

Perfume
Yuzu: Yuzu is a citrus scent that well deserves its own stand-alone perfume. It is perhaps best described as a mineral-faceted citrus scent; a delicate blend of mandarin and grapefruit. It is not shrill like most citrus fruits but rather persuades quietly.

Volume
350 ml.

Ingredients
Aqua, Glyceryl Stearate, Aloe Barbadensis Leaf Juice, C15-19 Alkane, Cetearyl Alcohol, Olivoyl Hydrolyzed Wheat Protein, Caprylic/Capric Triglyceride, Glycerin, Glyceryl Oleate, Potassium Hydroxide, Lactic Acid, Xanthan Gum, Glycine Soja Oil, Tocopherol, Beta-Sitosterol, Squalene, Parfum, Sodium Benzoate, Potassium Sorbate, Limonene, Hexyl Cinnamal, Linalool, Alpha-Isomethyl Ionone, Citral